How We Can Help You - That's easy!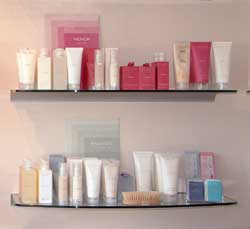 I've created a site for our salon at www.beaconsfield.health-and-beauty-clinic.co.uk and I'll create one for you prefixed with your town's name. As I add more salons the site will get bigger and become an even greater magnet for Google. You may think the web site name is rather long, but we are not asking people to type it, they will just be clicking on a link in Google or somewhere similar to find you, it's easy to read and it means something. Compare it to our original mayflowerbeautyclinic or even victorias-beauty. Which of the three means more to you? Remember that this site is designed to attract new clients rather than being a web address that you give existing clients and say, go look at my web site - that will not make you any money. If you want some help selling more to existing clients then that is something seperate that we can help you with but this website is primarily designed to bring you new clients.
So I'll create a professional site for you similar to our sample above . I will customise it to your requirements including your pictures if you want. Don't worry if you haven't got any digital pictures - most of mine were taken on a fairly cheap Nokia phone and then e-mailed straight from the phone - I can show you how.
Sample pages we could include:
Home or Main Introduction page

This is like the front cover of your site and sets the scene for the rest of your contents. You would usually have a logo and links to all your other pages. Mention anything that makes you different from other salons, maybe the parking is easy right outside your shop or you have extended opening hours. There should be something that makes you better or different to your competitors.

Treatments

A list of all the treatments complete with prices and details of any courses that you may offer. Remember to mention any special features of the treatments and why they are better than other treatments.

Products

Details of the products that you use, including their benefits.

Price list

This could either be a scanned version of your brochure (or electronic copy if you have it available) or a simple list of all your treatments and prices.

Contact Us

Details of your email address and phone numbers for you or your company.

How to Find Us

Your address and a map complete with information on how to find you and the best routes to use by car, train or bus. Including details of the nearest car parks and maybe details of charges and likelihood of getting a parking ticket!

About Us

Explanation of who you are, your experience, qualifications, any other information you may think your clients will find useful.

Privacy Policy

Very important but often left out, this should detail exactly what you will do with your clients personal information.
You are just not going to believe how simple, fast and easy it will be to get your site up and on-line ready to do business for you.
You'll get everything you need for a professional web site just look at our sample but please remember it will be customised to suit your requirements.